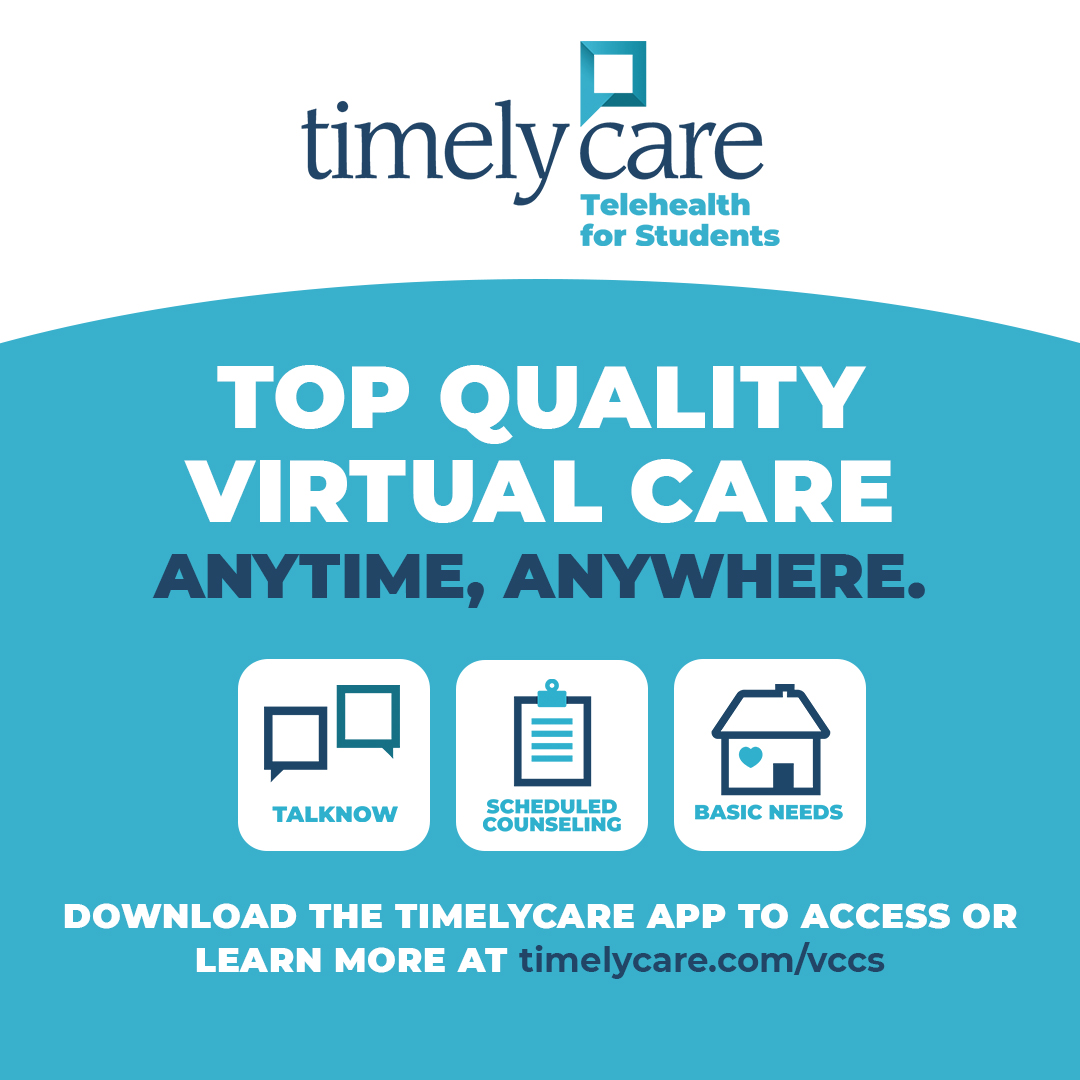 TimelyCare
If you're feeling anxious, overwhelmed, or are struggling with other mental health issues, you can talk to a licensed provider during secure video visits from your smartphone, laptop, or desktop computer–anytime—at no charge.
TimelyCare
---
At RCC we care about your emotional well-being and that includes mental health. RCC students and employees have access to free and immediate mental health support, 24/7 through TimelyCare


Frequently Asked Questions
How can students and employees access TimelyCare?
A. Students and employees can access TimelyCare by logging into myRCC and clicking on the TimelyCare tile or by registering at TimelyCare. You can then have visits from any web-enabled device – smartphone, laptop, or desktop.
Who can use TimelyCare?
A. Any student at RCC* or RCC employee
What services are available?
A. There are four services available:
TalkNow:24/7, on-demand access to a mental health professional to talk about anything at any time.
Scheduled Counseling:scheduled appointments to speak to a licensed counselor.
Health Coaching: access to a nutritional specialist to adopt healthier lifestyle behaviors including sleep issues, weight management and more
Group Sessions:weekly guided meditation and yoga group sessions, plus specialized discussions throughout the year.
Self-care Journeys: interactive videos and articles to help you learn how to manage stress with intentional techniques, yoga, and meditation. Explore topics like the Sunday scaries, social media detox, and getting ready for exams.
How much does a visit cost?
A.
TimelyCare services are 
free
 to all RCC students* and employees.
If you are struggling with mental health, emotional, or lifestyle issues, it's easy to get started with TimelyCare today. It only takes a few moments to register. Need help registering? Click here.
*Students under the age of 18 require parental permission to access telehealth services.